January 19th - March 2nd, 2018
Exhibition and Lectures
Messing Art Gallery, Mary Institute/St. Louis Country Day School. 
St. Louis, Missouri
I am very excited to announce my photo exhibition at my alma mater, Mary Institute/St Louis Country Day School (MICDS) which will be on view until March 2, 2018. The works will then be donated to the school      and placed throughout the campus. 
The Opening-Jan 9th, 2018: "Join the Journey: A World Through My Lens" at Messing Gallery, MICDS
The opening exhibition with my beautiful wife and so many old friends.
1st MICDS Deeper Dig at SLAM (Saint Louis Art Museum)
Heading to the museum to join the MICDS AP Art History students and their teacher, Patrick Huber.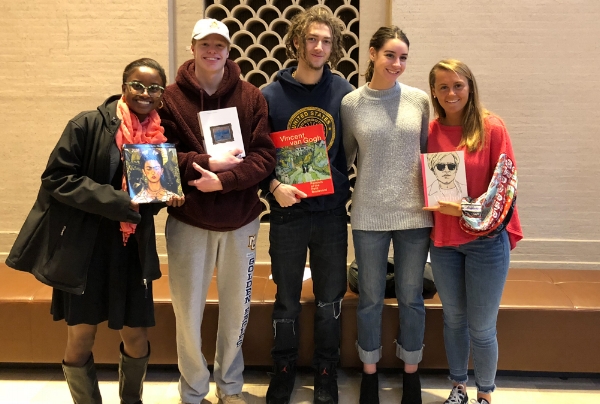 The Art History students took photos of small portions of art works and created a scavenger hunt list for 24 of us. One hour to find the original work from which the detail photo was taken. Another hour of wonderful comments by the students about the work itself and the artist, with added touches by Patrick. Best art museum tour I've ever had. 
MICDS Digital Photography Class
After discussing composition and lighting, we took a photo to wrap up an amazing four day journey.
 
February 2018
Permanent Installation
Memorial Sloan Kettering Cancer Center
1275 York Avenue, New York, NY
Very excited to have my work now hanging in the entrance level of the MSK in NYC. This is truly fulfilling the dream of having my images bring pleasure and comfort to patients, staff and visitors.
September 2017
"Sylvia's of Harlem Great Grill Skills Showdown"
Sylvia's, Harlem, New York
Sylvia's of Harlem Great Grill Skills Showdown with Red Rooster, Corner Social, The Cove
hosted by Tren'ness Woods-Black.
June 5th - September 7th, 2017
Photographers and Imagists (PAI)
Selected Honorable Mention Award for Photography at the PAI Exhibition
Weill Cornell Medicine/Samuel J. Wood Library.
1300 York Avenue, New York, NY
Winners, Cynthia Matthews, Alfred Geoetzfreid and Harry Agress with PAI director, Leonora Goldberg.
June, 2017
The Other Art Fair by Saatchi Art
Brooklyn, New York
Selected to show at The Other Art Fair,a juried exhibition, sponsored by Saatchi Art, the first exhibition in the US (previously in London, Sydney and Melbourne).
May, 2017
Saatchi Art Interview by Emma Warren
Brooklyn, New York
I was very honored to have been interviewed by Saatchi Art for The Other Art Fair and its inaugural show in Brooklyn, NY.  Check out "Harry Agress Photography Takes His Audiences All Over The World" full interview here.
May 2- October 4, 2017
My Manhattan: A group Photography Exhibition
ilon Art Gallery
Harlem, New York
April 2017
"Best in Show"
Hackensack Meridian Health Physicians' Art and Photography Show
Jersey Shore Medical Center
Neptune City, NJ
July - Aug 2016:  299 Park Avenue NY, NY
Sept - Nov 2016:  605 Third Avenue NY, NY
"Through My Lens: A World of Wonder, Beauty and Spirit"
Fisher Brothers Lobby
This was my first exhibition in NYC after I retired as an radiologist. I am standing in front of two of my (favorite) photos from the exhibition Through My Lens: A World of Wonder, Beauty and Spirit at the Fisher Brothers lobby of 299 Park Avenue.
#followthejourney #harryagress